Graveside Services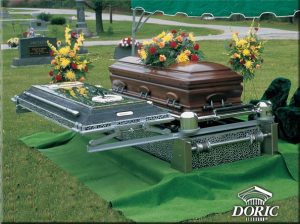 Central Burial Vaults' number one concern is providing care and comfort for the family during the funeral process. We pay close attention to the details to ensure that their needs are met. Graveside services include a tent, twelve chairs, grass, and a lowering device. Bottled water is also provided if temperatures call for the need and arrangements are made through the Funeral Director ahead of time.
Central Burial Vaults also offers grave opening and closing, disinterment, relocation and transfer services. All services are provided by our courteous and professional staff. Prices and fees associated with these services may vary. Please call a local Funeral Professional for details.
Personalization
This service is offered in order to create and add comfort during the burial process. Nameplates are personalized with the name of the deceased with their birth and death years. Emblem plaques can be personalized with a photograph or picture. Some vault lids can be personalized with a background photo, a picture of the deceased, name and dates. Prices may vary.
Click Below for Personalization Samples